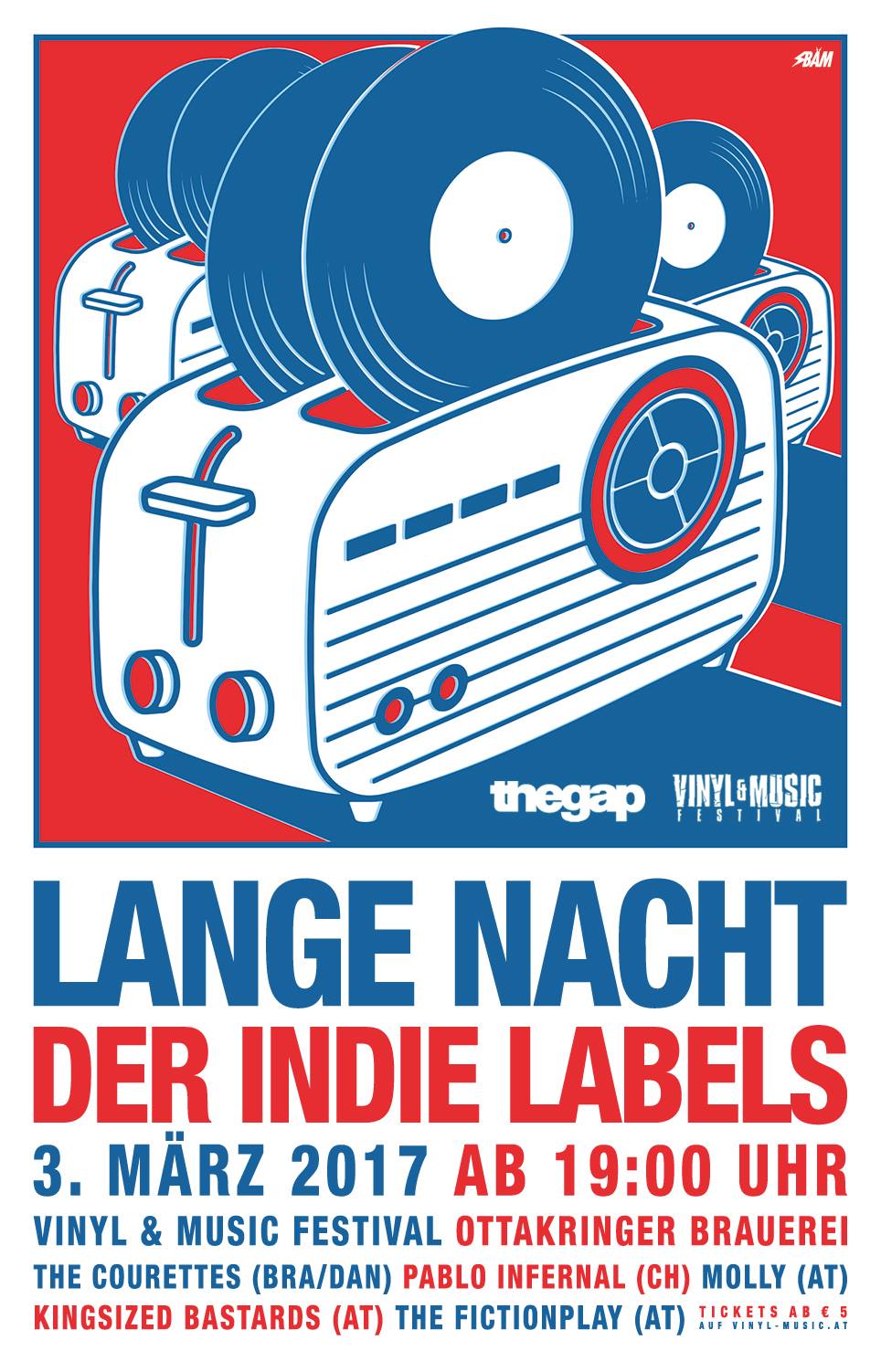 Lange Nacht der Indie Labels

| | |
| --- | --- |
| | 3. März 2017 |
| | 19:00 |
| | Vienna |
| | Ottakringer Brauerei |
Tickets
Neben dem Indie Label Market at Ottakringer Vinyl & Music Festival findet auch die Lange Nacht der Indie Labels zum ersten Mal Im Rahmen des Ottakringer Vinyl & Music Festival 2017 statt.
Beginn: 19:00 Uhr
Tagesticket: 5€ (nur AK)
3-Tages-Festivalpass: 12€ bei oeticket.com
www.vinyl-music.at
Line-Up:
The Courettes (BRA/DAN)
Label: Sounds of Subterrania
WHAAAAUW! The Courettes is the garage duo sensation from Brazil and Denmark! It's savage! It's dynamic!
​
After the blasting debut album "Here are the Courettes" – critically acclaimed on the garage scene all around Europe – The Courettes are back with the SMASH HIT single "Boom! Dynamite!" + B-Side killer "T-C-H-A-U"! Straight from the legendary Toe Rag Studios in London, produced by Liam Watson. More fuzz! More screaming! Louder drums! More raw vocals! In good ol' Analog'n'Couriffic MONO!!!
Pablo Infernal (CH)
Label: Kleio Records
Als würden tausend Krähen ihr Gefieder weiten und die Zuschauer mit einer geballten Ladung Rock & Roll in die frühen Siebziger versetzen: singende Gitarren, grollende Schlagzeugbeats, ausgefallene Basslines und eine zartsüsse bis lautstark brüllende Stimme gepaart mit schweisstreibenden und energetischen Auftritten.
MOLLY (AT)
Label: Weekender Records
MOLLY are Lars Andersson and Phillip Dornauer from Innsbruck in Austria. With a shared love of the early Creation bands such as My Bloody Valentine they knew the sound they wanted from the moment they decided to form a band together – shoegaze.
Kingsized 'Bastards (AT)
Label: Post Office
Alles schwirrt und schwillt, kein Effektpedal bleibt unbenutzt, und Gabriel VanMojo singt Songs, die »J. Bagshaw« oder »Albert Hammond Jr.« heißen. Als hätte sich John Lennon mit den Pilzen oder Pillen vertan. 'Bastards schwanken zwischen sanften Geigenklängen, psychedelischen Abgängen und 60er Jahre poppigen Beats. Kein Genre wird ausgelassen und man kann ihnen auch schwer eines zuordnen.
The Fictionplay (AT)
Label: Phase2
Wherever the "Ark Fictionplay" lands, massive riffs collide with fraglie vocals and rabid arrangements with rhytmic calculatio. People defected from Mainstream are dancing ecstatic into the exile and dusty listening habits get abandoned once and for all: The Fictionplay.